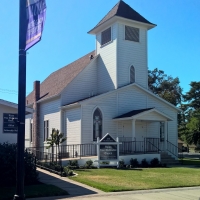 A Church God Blesses
By Pastor Steve Evoy | June 3, 2016
In this, my final contribution to our church newsletter, I want to reflect on our recent journey through the (first part of) the Book of Acts in a way that will set the stage for Pastor Luke Jones, who will step into the pulpit as the next pastor of Ripon FMC on June 26.

Drawing from what we've learned during our brief study of Acts, and borrowing extensively from author Michael Green's excellent book, Thirty Years that Changed the World: The Book of Acts for Today, I want to identify four characteristics of a church that God blesses. This list is drawn from the activities of the first disciples, summarized in Acts 1. It's my sincere hope that these characteristics will become increasingly manifest in our church, so that, under the leadership of Pastor Luke, this congregation will be blessed by God!

To begin, let me point out that the Book of Acts describes events that unfolded over a relatively short period of history – about thirty years, to be exact. Michael Green writes:
Three crucial decades in world history. That is all it took. In the years between AD 33 and 64 a new movement was born. In those thirty years it got sufficient growth and credibility to become the largest religion the world has ever seen and to change the lives of hundreds of millions of people. It has spread into every corner of the globe and has more than two billion…adherents. It has had an indelible impact on civilization, on culture, on education, on medicine, on freedom and of course on the lives of countless people worldwide. And the seedbed for all this, the time when it took decisive root, was in these three decades.
How could such a small group of marginalized people – about 120 ordinary folks with visible faults and weaknesses, not to mention frequent spats of disagreement – how did they wind up laying the foundation of the movement that has been shaking the globe for two thousand years? Michael Green sums it up the Church's great beginning in these simple words, "It all began with a small group of men and women: and then the Spirit came."

Before Jesus ascended into heaven, He promised to return and abide with His disciples:
"All authority in heaven and on earth has been given to Me. Therefore, go and make disciples of all nations, baptizing them into the name of the Father and of the Son and of the Holy Spirit, and teaching them to obey everything I have commanded you. And surely I am with you always, to the very end of the age." (Matthew 28:18-19)
What an amazing thought: Jesus is here with us, just as He promised, ready to assure us success if only we will commit to the mission that He has entrusted to His people! That mission is simply this: to be disciples who make disciples.

To put it another way: we are called to follow Jesus in ways that lead others to Him.

How did the first generation of Christians approach this mission? If we examine the first chapter of Acts, four characteristics stand out. We do well to regard these as four qualities of a church that God will bless.

The first characteristic is obedience. In Acts 1:4, Jesus said to His disciples, "Do not leave Jerusalem, but wait for the gift My Father promised, which you have heard Me talk about." Jesus gave the disciples a clear instruction, and they obeyed it. They returned to Jerusalem, where they waited. I believe that God is looking for congregations of Christians who have settled in their minds that they are going to habitually obey His commandments. Let us resolve to live our lives according to Jesus' example and instructions, knowing that we have the promise of His presence to guide us as we endeavor to obey Him.

A second characteristic we see is prayer. As they waited in Jerusalem, "all of the disciples with one accord devoted themselves to prayer." (Acts 1:14) Ten days later, on the day of Pentecost, when the Holy Spirit was given, they were still in prayer (Acts 2:1). We're talking about extended times of prayer among people who had not previously gotten along together. During His public ministry, for example, Jesus' brothers had been embarrassed by His messianic pretentions. Now, they are convinced of His identity – and willing to associate with the disciples whom Jesus had once claimed to be His "true" brothers and sisters (See Mark 3:20-34).

Which brings us to a third characteristic: unity. Michael Green states it clearly:
God cannot bless disunity, and He will not. For then the church would be proclaiming a lie: maintaining the reconciliation Christ came to bring to all who trust Him, yet manifesting nothing but division. It is only when men and women are clearly being reconciled with one another, despite all their differences, that skeptics will stop and take note of the Reconciler.
The Gospels present us with an unlikely assortment of disciples. There had been tensions between the disciples and the family members of Jesus, there had also been tensions between the disciples themselves. As they gathered in the Upper Room, they were a very diverse group of people. What did they all have in common? The answer, in a word, is simply: Jesus. This proved to be enough; their love for Him and devotion to Him was enough to keep them together.

The fourth characteristic we observe is that they had an openness to the Holy Spirit. No doubt these people weren't quite sure what they were waiting for. They had no idea what was about to happen. They were waiting for what Jesus had referred to as "the gift, promised by My Father, and spoken of by Me." They simply waited, and they prayed, in unity.

The Holy Spirit did arrive on the day of Pentecost. He is the life of the Church; He is the presence of Christ among us. Paul writes in one of his letters, "In [Christ] you also, when you heard the word of truth, the gospel of your salvation, and believed in Him, were sealed with the promised Holy Spirit…" (Ephesians 1:13). In Romans, Paul refers to the Holy Spirit as the "Spirit of adoption" – meaning that one of the things the Holy Spirit brings to us is a convincing sense that we do belong to God. But that's just the beginning. The Holy Spirit is the very life of Christ – come to abide in us – a life that is released in us more and more as we step out in obedience to His commandments. When we endeavor to walk in obedience to Christ's commands, we enter into His very life, and find that our obedience opens us up to more and more of the Spirit's presence and power.

The first Christians prepared for their task of being disciples that make disciples by assembling into a community marked by obedience, prayer, unity, and openness to the Holy Spirit. They did indeed follow Jesus in ways that led others to Him.

They've given us a great example to follow – so let's do just that!
"May our Lord Jesus Christ Himself and God our Father, who loved us and by His grace gave us eternal encouragement and good hope, encourage your hearts and strengthen you in every good deed and word." (2 Thessalonians 2:16-17)
Be confident that I will remember you in my affections and my prayers as I return to pastor the FM church in my hometown of Wolverine, MI. I will always thank God for the season of grace and growth that we shared together during my brief time of service in Ripon. God bless you!
Back