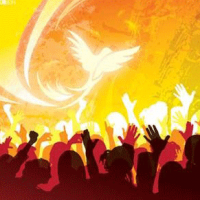 Are We Ready for Revival?
By Pastor Luke Jones | February 1, 2018
Acts 2
1-4 When the day of Pentecost came, they were all together in one place. Suddenly a sound like the blowing of a violent wind came from heaven and filled the whole house where they were sitting. They saw what seemed to be tongues of fire that separated and came to rest on each of them. All of them were filled with the Holy Spirit and began to speak in other tongues as the Spirit enabled them…
32-33 "God has raised this Jesus to life, and we are all witnesses of it. Exalted to the right hand of God, he has received from the Father the promised Holy Spirit and has poured out what you now see and hear…"
36-41 "Therefore let all Israel be assured of this: God has made this Jesus, whom you crucified, both Lord and Messiah." When the people heard this, they were cut to the heart and said to Peter and the other apostles, "Brothers, what shall we do?" Peter replied, "Repent and be baptized, every one of you, in the name of Jesus Christ for the forgiveness of your sins. And you will receive the gift of the Holy Spirit. The promise is for you and your children and for all who are far off—for all whom the Lord our God will call." With many other words he warned them; and he pleaded with them, "Save yourselves from this corrupt generation." Those who accepted his message were baptized, and about three thousand were added to their number that day.

This past week on Wednesday, Thursday and Friday I had the privilege of attending a Free Methodist Pastors' conference at the Modesto Free Methodist Church. Although I only had to go a short distance, most of the pastors there had driven in from further cities and had to take a couple nights at a hotel. The name of the conference and indeed its focus was "Revitalize." Do you think our church would benefit from some revitalization? Would we be better off with a new energy, a new vision from the Lord, a new feeling of calling to work in and advance the Kingdom of God? I do. I think every church and probably every Christian needs a fresh breath of life from God to inspire vision and action at least every couple of years. With this in mind, I'd like to share just a little bit of what Bishop Matt Thomas taught in the opening session of the Revitalize conference and as you read, please ask yourself the question, "are we ready and willing to be part of a multiplication movement in the central valley?"

Bishop Matt brought us five characteristics that all bursts of growth in the Christian church throughout history have in common, from the birth of the church in Acts chapter 2 to the movements happening right now in China, Venezuela, Cambodia, and Egypt.
First, he said, things in the surrounding culture were not going well. Society was in a state of marked decan. Corruption, vice, illness, poverty, and persecution abound. The people are burdened by a constant sense of fear. From your perspective, is our culture sharing this experience of fear? Do we see ever growing violence in the streets? Are the people of our communities worried that the world we are used to is collapsing in on itself? It seems to me that America needs revival and may just be afraid enough to receive it!

Second, the Bishop said, the Holy Spirit enlivens particular leaders with a strong and driving passion to have every part of their lives be submitted to God and to see the world changed. This passion is a movement of the Holy Spirit and cannot be manufactured by a Christian just because they want to see growth.

Third, the surrounding society starts to fee a strong conviction of sin. The people living in fear realize that something is wrong and they want to set it right. Although they may not know it yet, this is the Holy Spirit's conviction preparing the people for repentance.

Fourth, the Church in that society and culture begins catching the fire that those inspired leaders have been burning up with. The people of God yearn deeply to be closer to God that they have been before and to see the world impacted by their lives, to see the Kingdom of God grow. Once again, this fire, this yearning cannot be manufactured. No amount of intentional excitement can produce it. It is a work of the Holy Spirit. Healthy churches will seek to recalibrate their lives, their relationships, and their ministries by the standard of the mission the Lord has given them as a church. Their desire will not be to see the church grow bigger but to see the Kingdom of God actively saving the world.

Fifth, growth in the church happens at an uncontrollable rate. People are finding God, seeking peace strong enough to settle their fears. They are meeting God in their relationships with Christians who are burning to see the Kingdom of God change the world. The church cannot find room for the growth in the Kingdom, so churches and ministries and leaders are multiplied and spread far and wide.
When I hear the Bishop's teaching, I became so excited I forgot for a moment that I haven't yet seen this multiplication happen. I felt as I listened to him a little bit of the fire and passion that Christians today in other parts of the world must feel to see God turning their neighborhoods and cities and countries inside out with the exponential growth the Church is experiencing there.
Then I wanted to be a part of a change like this. I wanted not just to imagine I was there in Egypt, where Free Methodist churches alone have multiplied 100 fold in the last 10 years, but to see MY culture change, to see OUR culture change and find the hope that Jesus offers. And I asked myself, "what do I need to do to become a part of this kind of growth? Do I need to become more passionate for God?" Then I thought back to what the Bishop had tried to communicate about passion, that it cannot be drummed up in the heart, it must be planted there by the Spirit of God. Then I saw what I CAN do.

I can pray. I can pray like my life depends on it. I can pray prayers of repentance, as honestly as ever I have repented of sin, for any and every moment of apathy I have felt about God's call on my life. I can repent for letting the eyes of my soul sleep, not seeing opportunities to carry peace, grace, and love in the lives of non-Christians I know with my words, my time, my money, and my actions. And when I run out of things I can think of to repent, I can pray some more. I can plead with God to send a fresh breath of the Holy Spirit. I can ask with expectation that God will do everything in me that God can for the world around me. I can ask for God to inspire me and the Christian community I worship with to bring the passion and fire that we need if we are going to make a difference in the world.
So I ask you, even as you are reading this article and cannot see my face right now, even as you and I are separate and cannot hold hands, to pray with me. We need a fresh breath of the Spirit. Our lives DO depend on it, as do the lives of people around us who do not yet know the goodness of the Lord. Are we ready for revival or will we be content to remain comfortable in our faith? We cannot force the Spirit to move, but we can ask and ask and ask again.
Back