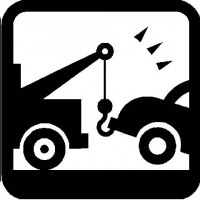 The Truck Driver and the Ethiopian Eunuch
By Pastor Luke Jones | October 2, 2017
The Spirit told Philip, "Go to that chariot and stay near it. Then Philip ran up to the chariot and heard the man reading Isaiah the prophet. "Do you understand what you are reading?" Philip asked. "How can I," he said, "unless someone explains it to me?" So he invited Philip to come up and sit with him. This is the passage of Scripture the eunuch was reading:

"He was led like a sheep to the slaughter,
and as a lamb before its shearer is silent,
so he did not open his mouth.
In his humiliation he was deprived of justice.
Who can speak of his descendants?
For his life was taken from the earth."

The eunuch asked Philip, "Tell me, please, who is the prophet talking about, himself or someone else?" Then Philip began with that very passage of Scripture and told him the good news about Jesus.
- Acts 8:29-35

A month or so ago I had a car break down on me. Transmission fluid was suddenly pouring out all over the freeway. When the tow truck came I rode back home in the cab with the driver. He was a polite, friendly man and we talked while he worked and as we started driving. Somewhere along the line the conversation took an interesting and unplanned turn. As I recall it now I think I thanked him for being prompt and polite and, in short, doing his job well and with a pleasant demeanor. He responded that he was not perfect but that he tried to be a person who treated everyone well and that he had not always been that way, but he was always trying to do a better job of it. That caught my attention, not just his desire to treat others kindly, but that he referred to a process of change in his life.

Then the Holy Spirit started working on me. The conversation moved on from that topic but as we were talking I was thinking, "I wonder if this guy is a Christian? If he's not, he's certainly a good candidate for it as far as I could tell in a half hour. He is willing to talk and to listen, to serve and to respect others, and he is aware of his own shortcomings and no stranger to his own need to grow and change. If I bring up the topic of God, we can see where things go." God is so good and if we look for opportunities like these he will show them to us.

At the next lull in conversation, I said, "I don't know if this will seem like a random question to you or not, but you suggested that there was a time when you were not so considerate of others and a time when you changed and I'm just wondering – Are you a Christian?" He grinned from ear to ear and was quiet for a second or two, then he said, "well yes I am. Are you?" And my inevitable reply was, "YES!"

I didn't have an opportunity to share the good news as I thought I would have, but I did have a wonderful time talking with a Christian brother. We talked the rest of the way to my house. He found out pretty quickly that I'm a pastor and he told me about the church he goes to and his family. He had a couple theological questions as many people do when they realize they are talking to a pastor, especially if they go to a larger church where the pastors are difficult to get to know. I shared my beliefs on those specific issues but I was very straight forward about things I didn't know.

That conversation turned a very stressful evening spend on the side of the road into a joyful blessing from God. And just think – I wouldn't have ever known I was with a brother if I hadn't been willing to share the good news about Jesus with him in the first place. The only hint I got from him that we might be able to have a spiritual conversation was that he knew he had changed for the better at some point in his life. That was enough of a starting place. Later it occurred to me that my conversation with the tow truck driver started out very much like the story of Philip and the Etheopian Eunuch. All either of us really got to go off of was an interesting conversation starter and the internal urging of the Holy Spirit to take that conversation in the direction of salvation. In my case, if my driver responded coldly or antagonistically to my spiritual question, I risked having a very uncomfortable half-hour drive home, but that's not really a sacrifice. What's an hour's awkwardness in the grand scheme of eternity? And for all I knew at the time, eternity might have been at stake for him.

I challenge you today to be ready to talk about the hope God has put inside of you simply by listening. You don't need to carry a big sign down the street like an angry political protester. You don't need to knock on every door in town like a traveling salesperson. Listen well with the potential spiritual needs of the person you are with on your mind and the love of God in your heart and you will find opportunities for spiritual conversations more and more often. You never know when the person you are talking to is ripe for Jesus to bring in a harvest of salvation and the joy of being the tool he uses in that great work is worth the effort. Thank the Lord he chooses to use us to carry his love into the world!
Back